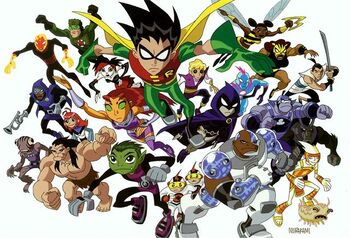 Teen Titans Go!
 is a comic seires
 that was published by DC comics
. It is based on the 2003 animated TV series Teen titans
 which is itself loosely based on the team that starred in the popular 1980s comic The new teen titans
. The series was written by j.
 and Larry Stucker were the regular illustraton.
Ad blocker interference detected!
Wikia is a free-to-use site that makes money from advertising. We have a modified experience for viewers using ad blockers

Wikia is not accessible if you've made further modifications. Remove the custom ad blocker rule(s) and the page will load as expected.